Welcome to CFI
CFI Finance is a financial agency and brokerage serving Construction | Transportation | Forestry industries primarily in New Brunswick, Nova Scotia, Newfoundland, and Prince Edward Island, Canada.
Do you own an excavation business, heavy equipment, trucks or a construction business?
Do you want to consolidate your debt to lower your payments?
Is your construction equipment nearing the end of its life requiring major re-builds?
Do you need to finance new equipment?
Do you require a raw-land mortgage?
Do your customers require reliable equipment and demand that your equipment meets their standards?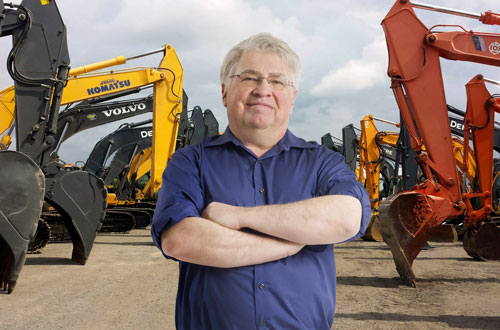 Do you want to spread out the cost of plating your truck fleet?
Regular commercial banks require an in-depth application process and will sometimes take over a month to decide on your situation. At CFI, we can decide on your loan application quickly and many times for established customers - on the spot.
We work with good people and good companies, even if you may have credit issues or other challenges.
At CFI we offer:
Short-term financing (under 2 years) & leasing for heavy equipment in forestry, construction & transportation serving clients across Atlantic Canada
25+ years' experience
No bank appointments
No lengthy loan applications to complete
Rapid response
Trusted service
Unique solutions
"Mark was professional and quick to help us when an opportunity for purchase presented itself; his knowledge of the older equipment and marketplace was a big help as well! Great experience!"
At CFI we have been serving clients and arranging financing for more than 25 years for hundreds of companies in Atlantic Canada.
How is CFI different from regular banks and other lenders?
CFI provides short-term and non-conventional financing [< 2 years]. We provide quick decisions under most circumstances in up to 2 or 3 days at the most and sometimes within hours.
The marketplace is complex. Each deal is as unique as each customer and at CFI, we serve commercial companies as well as sole proprietors who need customized financial arrangements to meet their own project mandates.
CFI is a reputable secondary lender working with customers who may have complex credit profiles and who may have been declined by more traditional lenders, but who are experts in their businesses and industries.
Our unique positioning in the marketplace enables us to be nimble and make decisions quickly.
We can help.
Because of our deep experience in the industry, we are able to help customers understand what they need and how the loan should be structured.
We then carefully balance the needs of the customer, the dealer and the lender in support of the customer.